How To Beat The Dreaded Cellulite
Tips for beating the curse of the dimples!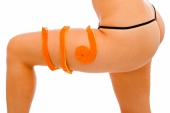 What is cellulite?
Ah - the dreaded orange peel effect! Cellulite is basically just fat 'dimples' on the thighs and buttocks which give the tissue a lumpy effect. It's been the curse of modern women ever since bikinis first came into fashion, so don't think you're alone if you suffer from it. Women are more prone to cellulite than men because they have thinner epidermis and dermis tissue layers in those areas.
What causes it?
Cellulite is caused by a variety of factors including poor diet, inadequate hydration, hormone imbalance, weight gain and a lack of exercise. However, it can also be genetically inherited, and many women find it appears after pregnancy. The sad fact is that almost all women, even super-skinny models, have some cellulite!
How can I get rid of cellulite?
The bad news is that if you have cellulite, you can never get rid of it completely. Losing weight definitely helps, but even thin women have cellulite. However, there are a few cellulite treatments techniques you can use that may improve the appearance of your skin:
Eat well. A build-up of toxins under the skin contributes to cellulite so by eating plenty of fruits and vegetables you may see a difference. Avoid excess caffeine and alcohol, and cut down on your intake of fatty sugary foods.
Exercise regularly. Exercise gets your heart pumping and improves blood circulation to all parts of the body. Try cardiovascular training such as running and cycling to firm up your thighs and buttocks. Even if this doesn't shift your cellulite, it'll tone up these problem areas and improve their appearance.
Massage helps too - and that doesn't necessarily involve buying expensive 'miracle' creams to rub into the problem area! Just use a body brush or loofah with shower gel every day when you wash and gently massage your cellulite. This increases the blood circulation to the thighs and buttocks, which helps remove toxins.
While none of these methods are guaranteed cures for cellulite, they should improve the appearance of your skin, and a healthy diet and structured exercise programme will benefit your body in all kinds of other ways too.
Disclaimer
You are advised to seek medical advice before making any changes to your diet or lifestyle with an aim of weight loss. This website and the content provided should not be used by persons under 18, by pregnant or nursing women, or individuals with any type of health condition, except under the direct supervision of a qualified medical professional. The information contained in these articles, and elsewhere on this website, is provided for educational and entertainment purposes only, and is not intended to replace, and does not constitute legal, professional, medical or healthcare advice or diagnosis and may not be used for such purposes. Continue...

You should seek the advice of your physician or other qualified health provider with any questions you may have regarding a medical or wellness condition in determining whether to use or adapt the information or content provided. We make no representations or warranties concerning any treatment, action, application or usage of dietary supplements, medication, preparation or other product or service by any person following the information offered or provided within or through the website. Reliance on any information appearing on a site is strictly at your own risk. Neither we, our affiliates nor any of the officers, directors, owners, employees, agents, representatives and assigns of each will be liable for any direct, indirect, consequential, special, exemplary or other losses or damages that may result including, but not limited to, economic loss, injury, illness or death.

If you are in the United States and think you are having a medical or health emergency, call your health care professional, or 911, immediately.