Comfort Eating
Comfort Eating
(1 of 2 pages)
Why do I comfort eat?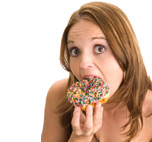 Comfort eating is generally about using food to avoid confronting something, or to fill some emotional void in your life that you cannot seem to cope with in a more constructive manner.
Unfortunately, food will not satisfy your underlying issues in the long run, and eating for comfort only provides temporary relief. After the food is gone the problem still exists, and if your over-eating is resulting in weight gain, you may feel even more depressed. Most of us have 'bad' feelings - ones that are painful or difficult to face up to so that we do whatever we can to suppress them. For many people, food is the substance that gives distraction and short-term relief.
How can I change this habit?
Food may have featured in your life for many years as a comfort. Perceived in this way, food may temporarily help to reduce emotional pain or discomfort. However, the real emotions eventually manifest themselves in a variety of dysfunctional ways. Learning to cope with those feelings at the onset will help you to overcome your weight difficulties.

When the process of suppression of emotions begins in childhood, you tend to grow up being completely out of touch with your feelings, thus you begin to experience an emptiness that can spiral into an eating dysfunction. When you were sad, biscuits and milk may have been offered to you to 'feel better'. This learned pattern of using food to feel better has followed many of us into our adult life.

If you are eating for comfort, the most important part of your weight loss journey is to:
Identify and acknowledge that you are an emotional eater
Recognise the emotions that cause you to eat
Find out ways to express your emotions
Avoid situations that cause you to feel bad.
A significant step in feeling-management that often leads to eating-management is learning to identify the feelings that you use food to deal with.
Disclaimer
You are advised to seek medical advice before making any changes to your diet or lifestyle with an aim of weight loss. This website and the content provided should not be used by persons under 18, by pregnant or nursing women, or individuals with any type of health condition, except under the direct supervision of a qualified medical professional. The information contained in these articles, and elsewhere on this website, is provided for educational and entertainment purposes only, and is not intended to replace, and does not constitute legal, professional, medical or healthcare advice or diagnosis and may not be used for such purposes. Continue...

You should seek the advice of your physician or other qualified health provider with any questions you may have regarding a medical or wellness condition in determining whether to use or adapt the information or content provided. We make no representations or warranties concerning any treatment, action, application or usage of dietary supplements, medication, preparation or other product or service by any person following the information offered or provided within or through the website. Reliance on any information appearing on a site is strictly at your own risk. Neither we, our affiliates nor any of the officers, directors, owners, employees, agents, representatives and assigns of each will be liable for any direct, indirect, consequential, special, exemplary or other losses or damages that may result including, but not limited to, economic loss, injury, illness or death.

If you are in the United States and think you are having a medical or health emergency, call your health care professional, or 911, immediately.