As a nation, we're falling way short of getting enough fibre in our diet – 30g a day is the target, but on average we reach just 18g. Fibre is important for digestive health and heart health, as well as reducing the chances of type-2 diabetes. But it has also been linked to improved weight loss.
The science
Foods high in fibre have been shown to help us feel fuller faster and to stay feeling fuller for longer. There are a few reasons why fibre may help control appetite – some research suggests it contains an anti-appetite molecule which sends a signal to our brain to tell us to stop eating. It's also believed that because it takes a while to move through the digestive tract, it helps create bulk and therefore leads us to feel fuller for longer. But what we do know for sure is that fibre helps fill us up and is therefore a useful nutrient to get more of when trying to lose weight!
Tips for getting more fibre in
ALWAYS choose wholegrain – so wholemeal bread, brown rice, wholewheat pasta...
Eat plenty of vegetables and fruits, with their skin on
Include more pulses in your diet (pulses include all beans, peas and lentils)
---
High fibre recipes
It's tricky to quantify how much fibre a dinner should contain as it depends what else you've eaten that day, but aiming for at least 8g of fibre at dinner time along with 2 other high fibre snacks and meals should bring you close to your 30g per day target.
Make-in-bulk Mondays
Aubergine lasagne
Serves 4 - 431 kcals per serving
| | |
| --- | --- |
| Kcals | 431 |
| Fat | 14.4g |
| Sat fat | 7.9g |
| Carbs | 29.7g |
| Sugar | 25.4g |
| Fibre | 9.8g |
| Protein | 46.0g |
| Salt | 1.4g |
---
Ingredients
3 aubergines, sliced lengthways
Frylight
1 onion, diced
1 garlic clove, crushed
1 celery stalk, diced
1 carrot, diced
250g extra lean turkey mince (5% max fat)
250g extra lean beef mince (5% max fat)
1 tbsp tomato purée
400g tin chopped tomatoes
500g carton of passata
300ml skimmed milk
1 tbsp cornflour
200g reduced fat soft cheese
60g reduced fat cheddar
Salt and black pepper
Few sprigs of fresh herbs to garnish
Method
Preheat the grill to high. Cut the aubergines into slices lengthways, about 1cm thick. Place on a baking tray, lightly spray with Frylight and season with salt and pepper. Grill for 2-3 minutes on each side until golden and then set aside.
Lightly spray a large frying pan with Frylight and place over a medium to high heat. Add the onion, garlic, celery and carrot, and cook for 5 minutes.
Add the beef and turkey mince to the pan and cook for a further 5 minutes. Add the tomato purée, chopped tomatoes and passata, and season with a pinch of salt and pepper. Reduce the heat to low and simmer for 10-12 minutes.
Meanwhile, preheat the oven to 200°C/180°C Fan/Gas mark 6. Mix 2 tbsp of the milk with the cornflour in a small bowl to make a paste. In a pan add the remaining milk and nutmeg and bring to a simmer. Stir in the soft cheese and paste and cook for 3-4 minutes until the mixture has thickened. Melt in two-thirds of the cheese.
Spoon half the tomato sauce mix into a baking dish about A4 size and top with half of the aubergine slices. Spoon over half the white sauce mix, then repeat. Sprinkle over the remaining cheese and season with pepper.
Bake in the oven for 25-30 minutes or until the top is golden. Remove from the oven, garnish with basil and serve immediately.
Tip! Double the quantities of this recipe and bulk cook – freeze the extra servings, and take a portion for lunch this week.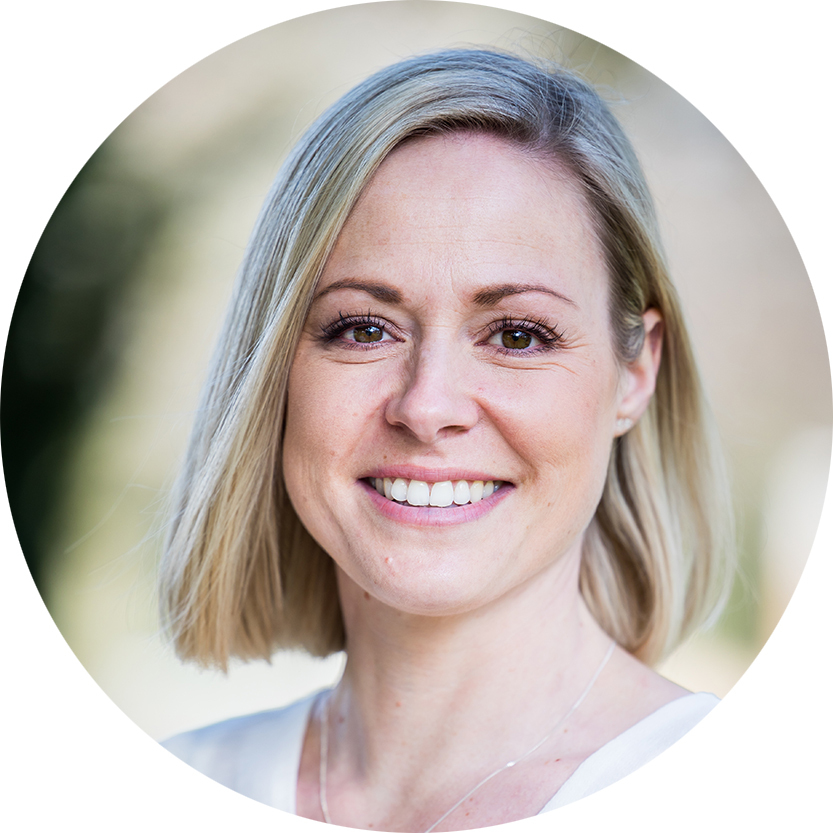 Nutritionist Emma Brown (ANutr), MSc Human Nutrition is passionate about how food science applies to the human body, and how the nutrients in what we eat affect us and ultimately have an impact on our health.