The Clothes Diet
By Alicia Kite, Top Style Consultant & founder of StyleMeSlim.com

So why do I call choosing the right clothes the 'Clothes Diet'? Because that's exactly what it is!
In my 30 years' experience I have found that so many of my clients look slimmer with their clothes off than they did in the clothes they were wearing when I first met them!
We are all aware of fattening foods that contain more calories and therefore eating them can result in weight gain, but equally we are also aware of foods that contain fewer calories and that these will help you stay slimmer and healthier. Think about this, how is it that some days we feel big in our clothes and some days we feel slimmer, and yet you weigh the same? The only thing that's changed is the clothes you are wearing, hence the power of the 'clothes diet'!
Take a look at the photos below which demonstrate the power of the 'Clothes Diet' (there are more photos in the 'real women' gallery on StyleMeSlim.com)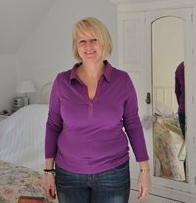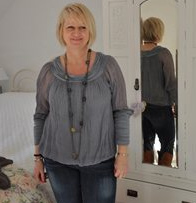 The photo on the left shows Alison wearing a top that makes her look bigger, it clings to her lumps and bumps because of the style and fabric. The photo on the right shows Alison wearing a top that makes her look slimmer. So next time you get ready, you need to think am I wearing flattering or unflattering clothes? It is easy to become 'blind' to our own wardrobe, so you need to take a really critical eye and look at yourself as someone else may see you.
Click on the links below for tips on clothes to avoid and clothes to try:

A list of 'fattening' clothes I recommend you avoid

A list of 'slimming clothes' I recommend you try
Disclaimer
You are advised to seek medical advice before making any changes to your diet or lifestyle with an aim of weight loss. This website and the content provided should not be used by persons under 18, by pregnant or nursing women, or individuals with any type of health condition, except under the direct supervision of a qualified medical professional. The information contained in these articles, and elsewhere on this website, is provided for educational and entertainment purposes only, and is not intended to replace, and does not constitute legal, professional, medical or healthcare advice or diagnosis and may not be used for such purposes. Continue...

You should seek the advice of your physician or other qualified health provider with any questions you may have regarding a medical or wellness condition in determining whether to use or adapt the information or content provided. We make no representations or warranties concerning any treatment, action, application or usage of dietary supplements, medication, preparation or other product or service by any person following the information offered or provided within or through the website. Reliance on any information appearing on a site is strictly at your own risk. Neither we, our affiliates nor any of the officers, directors, owners, employees, agents, representatives and assigns of each will be liable for any direct, indirect, consequential, special, exemplary or other losses or damages that may result including, but not limited to, economic loss, injury, illness or death.

If you are in the United States and think you are having a medical or health emergency, call your health care professional, or 911, immediately.